¿Cómo me enfrento al aumento de los tiempos fronterizos cuando visito a mi dentista en TIjuana?
Publicado porMelissa Gonzálezel 26 Ago 2020, 09:18 AM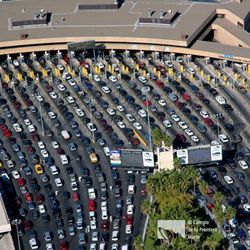 Afortunadamente, como recordará de nuestro blog anterior, los servicios dentales se consideran una razón esencial para viajar, por lo que no tiene que preocuparse por que se le niegue la entrada a México y EE. UU.Puede mantener sus citas actuales si lo desea y puede programar nuevas citas si lo necesita.
No obstante, para que su tránsito de ida y vuelta sea más fácil, su dentista debe proporcionarle documentos que demuestren que debe ingresar y salir de Tijuana para sus citas dentales.
¿Necesito una carta de mi dentista para cruzar la frontera hacia México?
While they are not mandatory, it will be very helpful if your dentist provides you with a letter pointing out that you have an appointment in their clinic. This will allow border agents to verify that you are indeed crossing for essential reasons and will have physical proof to corroborate it.
Your dentist can send you an email with the letter for you to print and present at the border. You can't bring it in your smartphone or iPad, since you're not allowed to show it during the questioning.
How can I prove I visited my dentist in Tijuana?
When you go back to USA, you can present your payment's receipt if it has your dentist's address and other information. If your dentist only has generic receipts, they can provide you with a printed letter vouching that you visited their clinic for emergency dental treatment.
This letter can also work as a future appointment voucher, since your dentist can write down that you will need to visit their clinic again in a specified day. Then you can present that same document when crossing back into Tijuana, without needing to print another letter.
Will this make my waiting time shorter?
Please note that these letters are NOT medical passes, and you will not be able to use the Medical Lane with these letters.
Keep in mind that you will have to join the line and wait as usual. Your dentist's letter will only help you to make the crossing process at the border quicker once you reach the border agents, and hopefully avoid secondary inspection.
What can I do to cross the Tijuana border more quickly?
Podría considerar cruzar a pie, ya que los tiempos de espera son considerablemente más cortos en comparación con los tiempos de espera de los automóviles.Puede estacionar su automóvil cerca de la frontera, cruzar a pie con la carta de su dentista y tomar un Uber para llegar a su clínica preferida.Una vez que finalice su cita, puede tomar un Uber hasta la línea peatonal de la frontera y cruzar de regreso a EE. UU. A pie.
No dude en visitar sitios web que permiten que usted sabe los tiempos medios de espera tanto a pie como en coche para que pueda planificar sus citas correctamente o pedirles que se retrase o reprogramado según sea necesario.